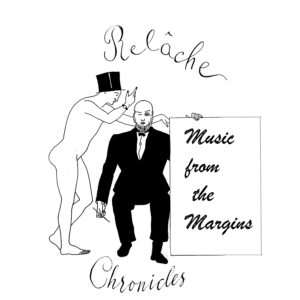 THE RELACHE CHRONICLES is a podcast featuring recordings and commentary by and about contemporary musicians. It will look at musical works drawn from the Margins of American Music, mainly since 1980. Each podcast will be between 30 and 45 minutes in duration and will:
1. Feature introductory narrative and explanations of a specific work, the composer, the performer, and a description of the performance space in
which the work has been recorded.
2. Showcase one or two musical work(s) – in their entirety – by a contemporary composer.
3. Feature commentary by that composer.
4. Feature a solo performer and/or instrumental ensemble.
5. Feature live recordings taken from the archives of the Relache Ensemble or from the private collection of composers and performers.
6. Investigate the intersection of live performance and audio-acoustical-computer technologies.
THE RELACHE CHRONICLES has been developed by Joseph Franklin, Arthur Stidfole and Joseph Kasinskas. Throughout their careers, they have been performing musicians, composers, executive and artistic directors, radio hosts and authors, dedicated to the music of the 20th and 21st centuries.